YESH ! SPRING CLOTHES!!
you know in jakarta, wearing winter clothes aren't nice to wear in d hot and humid weather here! so i'm excited for the spring fashion trends coming soon! VERY excited in fact. I've seen great looks from the runways of Dries Van Noten, Marc Jacobs, Balenciaga and much much more!
Trends I've noticed are..
*futuristic* from Balenciaga, Stella McCartney, and Lanvin
-some can be over the top but you can make these runway futurism and make it into your everyday wardrobe with some creativity.
-key pieces include: metallic leggings, slick pants, and more more more silver and gold!

*sporty* from DKNY, Marni, and Y-3
-track jackets are back! and they're actually chic instead of that laid-back, classic look..
-Dries Van Noten created my most item for this season.. a shoes that is a mix of wedge-tie on sneakers.. [i cant find a picture at the moment. but will update it soon after i find one]
-Vera Wang and Michael Kors extended the sport trend to ballet. they had ballet flats with wrapping ribbons around the ankles (just like a ballet point shoe)
-DKNY had a baseball shirt with DKNY written across the chest [just like a real baseball uniform!]

*
trapeze dresses* from
Gucci, Ferragamo, and Fendi
-they are almost everywhere on the runway! and they are brought up in different styles and colors!
-I noticed each designer had their own "statement" of the trapeze dress..
DKNY
continued with their sporty look by pairing a frilly magenta trapeze dress with a cap.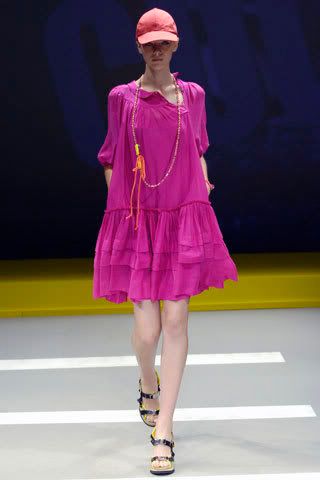 photo courtesy of Marcio Madeira
While
Fendi
had 2 trends in one! Their take on the trapeze dress was combined with the futuristic look by having the dress in silver!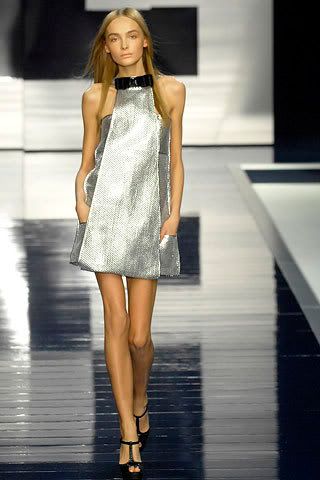 photo courtesy of Marcio Madiera


*florals* from YSL, Louis Vuitton, and Alexander McQueen


-

yes, I know spring = blooming flowers. but hey.. in fashion, "yearly" trends are always brought up in a fresh new way everytime! This time, flowers have reached to the heads of models.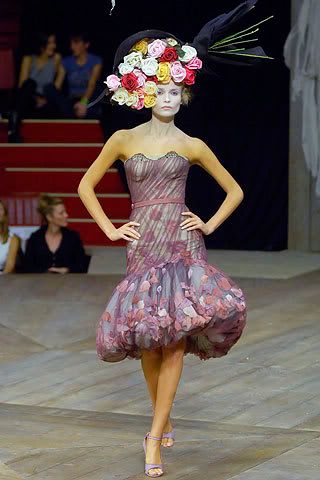 above, Alexander McQueen.... Above Right, Marc Jacobs.... Below Left, Louis Vuitton..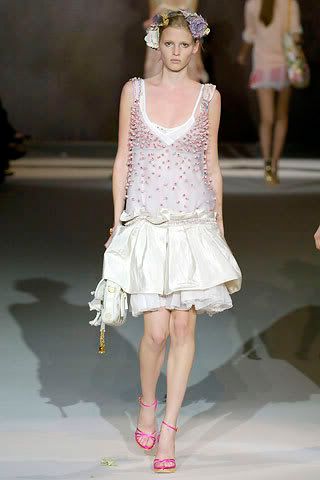 All "floral trend" photos courtesy of Marcio Madeira

okayy.. im done at the moment.. I'll be updating more when I read my magazines all the way to the end..